What? Breaking 6 months of silence to talk about a big box store? Yes, and it's because I find this to be something significant to our industry.
As internet marketers our careers are directly connected to how people live and interact with technology. Luckily for us in America, we are absolutely engrossed in technology. It's not just how we connect to the world around us, but it can be the determining factor that drives success or failure for the rest of our lives.
Between social media, personal branding and creating an industry defining edge that can get you noticed in the real, professional world – technology is 'Important stuff.'
I'm sure there is some extremist who can make an argument that you could create and maintain an online persona without purchasing a piece of technology, but that's really not realistic. So we are all confronted with a purchasing decision at some point.
Unfortunately, the largest tech retailer in America is doing everything in their power to close their own doors, one pissed off customer at a time – which now includes me. That doesn't come easily and I will later describe my difficulty with it but before I do let's take a look at the playing field.
The Devices We Use To Engage With The Internet
As marketers, one thing we have really had hit us during the last 2 years was how 'Mobile is taking over the world' and there is certainly truth to that. Mobile has absolutely changed the way we surf the net.
To me, it's tablets not smartphones that are the real game changer. Just take a look at this image, which I'm using from SMARTInsights (a blog that I highly suggest you read yourself).
Here we have it: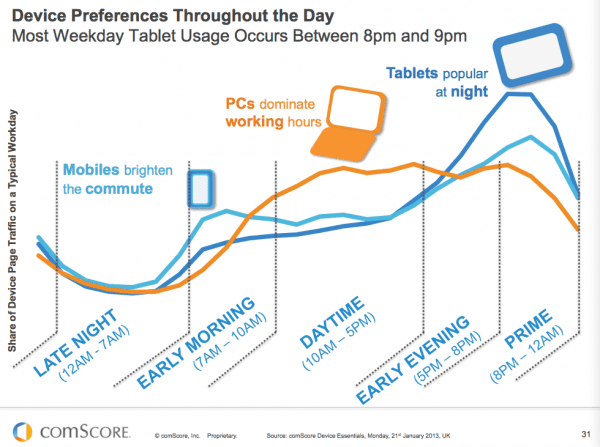 While Smart Phones do certainly seem to have a great average rate of us, it is taken over by desktops and tablets during respective peak hours. In fact the only time smart phones really experience a class-leading rate of use is during a brief period in the mornings.
What This Says About How We Buy Our Technology
Most of us enjoy using our tablet or desktop, particularly for research. Looking at reviews, reading about new products, searching new trends – all of these are normal and healthy but when it comes to actually making a choice it's probably not going to lead to a real purchase for your average person… If you are thinking that you buy via online research all of the time, well you probably are also an internet marketer that makes a living online, so you aren't exactly the 'average person.' In other words, this isn't all about you.
But the point is, to get these bigger devices (desktops and tablets), the average consumer will often head to their local technology giant to get a real person's advice…
To the average person, personal recommendations are still a big factor in the buying decision-making model. We should all be familiar with social proof by now, so you know it works. Standing in front of someone and having them tell you 'This is the best device because X, Y, and Z' will almost always mean more than an anonymous 'author' saying a device is great and by the way, buy it through my link HERE. (<- Not a real link, stop trying to click on it.)
The point of this is shopping for a new desktop or tablet online is fine, but when it comes to powerful proof – having a discussion with someone who lives and breaths the subject matter will normally mean much more to your average person than anything else out there…..
…. And that's an advantage that a box-store like best Buy can really capitalize on – but they don't and I've got tangible proof they don't even care about it.
My Best Buy History
As a teenager in 1996 & 1997, I worked at a Best Buy in North Olmsted, Ohio. The store manager was a guy named Guy Vance. Really cool guy, and I had a great experience at that store. In fact I wouldn't have left if it weren't for my parent's pressure to improve my grades.
In my short time working there I learned a lot of skills that I still use to this day when handling sales: overcoming objections, discovering and addressing customer needs, etc. It was my first sales job and I became very good at what I did as I was quickly transferred from a then-opening cellular department to P.C.H.O. which was their 'computer section' and a cornerstone of the store's sales.
I loved the no-commission structure, but honestly would have made much more had there been such a structure in place. Nonetheless – I grew blue so to say. While the company has undergone changes in the past almost 20 years, I've been in the shoes as those kids that work in those stores today…
And I'm DISGUSTED.
What Role Best Buy Fills
Look, if you want the best prices on computers, laptops, parts, etc – go to TigerDirect or NewEgg. You can shop without being disturbed and pay a low price for what you want.
If you want to get a cell phone, you can get it directly from the service provider's website, and you won't be disturbed while doing it.
Appliance? Heck even Amazon is an option for you and you don't have to have anyone approach you if you don't want to be bothered.
…. Hey, now that I look back at it you can shop at Best Buy without being disturbed either if you really want to. All you have to do is walk in!
That's a big problem if you are Best Buy…
Here's how it all started on March 23rd –
Lets Hear From U Twitter – SSD or Hybrid for the work laptop? 1TB storage is still a requirement, as is dependability. What Say Ye?

— GODOVERYOU (@GODOVERYOU) March 23, 2014
What You're Paying For
When I walk into a Best Buy, I know going into it that I will probably be paying a little more for the newest little gadget on my shopping list, but I'm while to pay that in exchange for SERVICE. I want to talk to someone who lives and breaths pixels all day long because the truth of the matter is that I run two businesses in two different industries and don't have time for it anymore.
So, imagine my surprise when after nearly tackling a sales associate on 3/23 to get a little attention and asking about a Solid State Hard Drive I was told to go home and look at their website.
Apparently nobody explained to this young lad why people walk into Best Buy stores to begin with. I was hit with a wave of disgust, and then anger. I wanted to sit that employee down and explain it to him – and if given the chance it would go a little like this…
Look, I've got the credit card and it's attached to this stuff called 'Money.' I'm willing to give your employer $400, $500, or even $600 for the convenience of having you around to provide me with this thing called 'Service.' I'm even willing to give your employer more of that 'Money stuff' for the item I want than if I had bought it someplace else, just because they keep you around to help me get what I want.
Annoyed, pissed off and highly disappointed I grabbed the only Hybrid Drive they had on the shelf and went home. It wasn't what I really wanted, but it's tax season and I really didn't have the time to screw around online.
But The Fail Was Strong In Best Buy This Week
I couldn't shake what had occurred that Sunday, but having such a strong attachment to the chain I went back when I needed a new Retail Copy of Windows 7.
I headed back into the store on 3/25 promising myself that this time would be different. Back to their computer section I went and found 3 of their employees hanging around the desk in the department. They seemed particularly preoccupied this day, whispering to each other and one typing furiously on a keyboard.
After about 20 seconds of desperately trying to make eye contact, I moved around the department to see if I could find a 'Walker.' Much like in The Walking Dead, I thought my chances would be better if I could get one alone than if they were in a hoard.
No such luck, back to the desk I went. I hung around another 15-20 seconds and wouldn't you know it, one of the employees looked up at me and made eye contact.
Yes, finally my moment! I could finally get a Retail copy of Windows 7 and move on with my day. Or so I thought…
Immediately after making eye contact, he broke our sacred and intimate bond immediately turning to the employee to his right and they simultaneously broke out in laughter. It was almost a ballet of bliss that I was witnessing….
Ahh yes, I remember those days and the fun we had. The difference is that there wasn't a customer standing 10 feet in front of me begging for a little recognition, even if it was just to be told 'We'll be with you in a second sir.'
Obviously this group of associates were closely related to the one I nearly had to tackle a two days before….
My Moment Arrived!
'Sir, is there something you need' said a voice from my right as he was quickly headed in my direction. I was so startled by his obvious intent to provide some degree of service that I had to look at his name tag. All I could make out of it was 'Sales Supervisor' and didn't grab his name, a move I later regretted.
He looked at this gathering of staff in front of me and asked one of them to help me but even he was denied!
Let me repeat that… the supervisor wasn't influential enough to break up whatever was so important and apparently humorous to these young men. Even his position of authority was not enough to get me 30 seconds worth of service. It was then that I knew something has seriously changed at Best Buy….
One Step Forward, Two Steps Back
Frustrated himself that he couldn't get his staff to respond, the sales supervisor asked me what I needed. I quickly explained that I needed a Retail copy of Windows 7 Home Premium and he masterfully responded that he didn't have any on the shelves anymore, it could be ordered.
I understand that. Look, if it's not on the shelf ordering it was the next best thing and what more could I really ask for. I'm still a willing participant in this exchange of money for services thing I described above, and it looked like I was finally going to get it.
Since he couldn't break up the cluster-of-fail in the back of the store, we headed up to the Geek Squad.
Here we are, these are my people. Fellow geeks… They will surely know exactly what I mean when I tell them that I need a RETAIL COPY of Windows 7 Home Premium. They will understand RETAIL COPY, especially when I ask them to verify that this is in fact a RETAIL COPY and not a system-builder OEM install.
They get that, right? Yeah… of course they do, it's the Geek Squad with their white shirts and all. I hand over my credit card and leave with the small satisfaction of having finally gotten a little service.
But the story doesn't end just yet…
March 27th, 2014 – The Day Best Buy Died
I checked my email for a few days, eagerly waiting to get my work laptop back up and running in all of its i7 glory, which was also bought from Best Buy.
Here we go, my package has arrived. I ripped it open like I was 7 year old and there was an extra special piece of battery-eating, noise making greatness waiting for me inside.
Inside was no retail box… in fact, it was the last thing I wanted to see…
Trust me, you can not appreciate my inner rage when I found….
Ladies and gentlemen, that is not a Retail Copy of Windows 7. That is in fact a copy of Windows 7 OEM, as in the thing that I kept making sure I wasn't getting TWICE with the so-called geek at the helm of register.
And I only say helm because it was as if he was the Captain of my 'Best Buy Fantasy Ship' and directing it right into an iceberg – and then straight to hell where another of Best Buy's fine staff would presumably defecate on it if the past week was any evidence of where this chain is headed as a company.
Best Buy Might As Well Close Up Shop
If the one advantage you have as a company is that you can provide in-person service, something no online retailer can do and your staff willfully flushes that down the toilet – then why even be in business?
As a publicly held company, at what point is your staff effectively deceiving the share holders? They are simply unwilling to follow through on their deal to actively pursue profits, instead looking to make sales purely just for existing and paying rent in a large building.
But the real question is, what does this mean for a technology-hungry America?
Will Best Buy effectively kill its own model of doing business? Will the in-person recommendation, dripping with all of its authority and social proof officially become a thing of the past and go the way of VCR?
As a society, Best Buy is foolish if they think we won't adapt to avoid these disappointments. In fact, 'Avoid Disappointment And Future Regret' is often used a sales hook, because people really do want to avoid it…
If my recent experiences of disappointment and sure-to-come future regret are any indication, then Best Buy is already making the strongest argument for shopping online there has ever been in the technology sector.
Good job Best Buy, way to let down everyone that has ever 'Grew Blue.' Time to get used to shopping on my tablet.